Build a Website
and Map Out Your Future
To build a website is easy! Let me share my story of how and why I built mine. If it is your passion don't sit there and debate until it is to late. Do it Now!
Many years ago I was told by a neurosurgeon and two top medical facilities in the United States that I had an inoperable malignant tumor in my brain and no chance for survival.
The worse part of this as I remember was having to tell my son and my family that I would be leaving them.
After months of testing to monitor the growth of the tumor I was finally told that it was benign and there wasn't just one they found 2 more. Bottom line, I was going to live but they wanted to continue to monitor these for the next several years.
If you can image this happening to you than you may understand all of the emotional stages that had occurred through this first year. Since this time in my life there has not been one day that has gone by that I don't think about death and dying.
So that's the short story…
I wanted to build a website
and set a goal to strive to meet my passion
In 2005 I knew I was not living my dream and pursuing my passion, that was very frustrating to me. I above all knew that I only had one chance at life. I knew what my passion was I just wasn't sure how to pursue it. My passion, what I had studied the majority of my life was the devastating consequences of stress and how it played a part in the human behavior along with the toll that it took on an individuals health.
It was heavy on my heart that I was running out of time both to build a website and live pursuing my passion by reaching out to others, so I started writing and didn't stop until the beginning of 2007. My book, 'Cobwebs of the Mind – How to Take Control of Stress', was published in June of 2007. Now some of my thoughts were produced in book form and I was ready to begin to build a website.
Next step was ... How to build a Website
I didn't have an abundance of computer knowledge just the basics that I needed to get by.
My thoughts…Maybe I could get someone to build a website for me and I could learn how to operate it. I went to google it, 'Building a Website'. So many choices came up it was a little intimidating. The companies that would build the website for me were confusing, expensive, limited, and didn't offer any extra's so once it was built I still wouldn't have the knowledge or tools to make it work.
I read and read and read some more, most of this reading was like another language, buy a domain name, monitor and track your website, learn to use HTML, be number one at the SE's, join this directory and that directory. I heard my passion splat, there was no way I could either learn all of this or know in what order to do everything and what if I missed something I should do and all my hard work would be worthless – I had my hopes so high that this was the answer.
I felt defeated once more as I stumbled through some other sites. Then my heart skipped a beat and I almost feared getting my hopes up again but as I kept reading I became more and more excited. I watched a video on how Site Build It would help me to build a website and knew this was it. Finally, I knew my dream would come true, what a feeling that truly was.
This company did everything for me. Everything from start to finish, I didn't need to try to figure out all these steps and what to do first they would take my hand and walk me through every step of the way and provide everything I needed to be a success when it came time they would even register my domain name. Everything… no thoughts of fear that I would miss something, no doubts that I would be successful.
They gave me a choice of my background that I wanted to build my website and all I had to do was start typing. With all of the selections they have I could even find out what to write about, what the public was looking for. Then the really fun part, they even provide pictures, video's, articles and many other options that you can insert into your page that relate to your topic.
Perfect, fun, easy and someone to walk me through everything, they even submitted all of my pages as I made them to all of the major SE's ( I found out this was search engines like Goggle, Yahoo, Live Search and Ask (used to be MSN). All I had to do was write and they would do the rest.
There are a lot of cheaper solutions out there when looking to build a website, but the others don't have a way to insure that you will get traffic. SBI, Site Build It, checks every page I build to make sure it is search engine friendly.
They monitor my website all day every day. They let me know how many people visit my website, what pages they visit, what country they are from, how every single page ranks at the SE's, they even provide me with lists of other sites that are interested in advertising my site on theirs. There is so much more that they do and programs they have developed for my success but don't stop here Here is all the proof you need. There's not much more you can ask for but they keep coming up with more to offer every day.
I have my own email on my site, they create my blogs that keep people updated on what's new on my site, they helped me set up a gift shop with every item I wanted to carry to ease stress and make life a lot more enjoyable for everyone, they also provide me with a service that sends out my newsletter every month so I can create many newsletters and give them a date to mail them out. Done… that easy.
They walked me through every stage of the game kind'a like one stop shopping. I couldn't be happier, I love my site and I love working on it every day. With their continuous help I can always come up with something new and something different to help my visitors.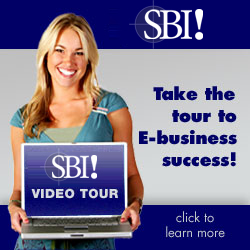 I'm living my passion now and making a profit to keep me doing what I love to do. I am free to make all of my own choices.
I have been very blessed in my life and if I can help someone else make their dreams come true, I want to make it happen. So if you are discontent with your job, want to make your own hours, are a stay at home Mom looking for an income or simply have a passion and a dream you want to share with the world, build a website, step forward and start your own venture and excitement.
I can't write enough to explain all they have to offer to you. Take the time now to visit their site, maybe view their video and see for yourself why I am so successful. You can't go wrong when someone shows you the way and does most of it for you. SBI!-built-and-managed sites have an unmatched track record, beating results by so-called "Web professionals." They are in the Top 3% of all Web sites in the world.
Click on any of these links to learn more and see if you don't agree with me, I'm sure you will.


Start your future now and live your passion
Get the Facts of How to Build a Website
SBI Order page


Like I found out, "Don't waste your time Waiting Just Build a Website and start to fill in the blanks."
If you have unanswered questions - concerns or challenges you would like answers to prior to starting your website please Stop right now... click here and ask any question you may have - there are not wrong questions...and yes, we have the answers, we are here to help you succeed.
You only live Once
Share what you have to offer with the World
We are Waiting for You ...

Happiness Always, Susan

P.S. When you get on line send me an email so I can visit your site I love to see the new ideas and creativity with something new on the Web.

________________________________________________________________





Homepage/Search box l Gift Collections l site map l contact us




Subscribe to Our Monthly Newsletter